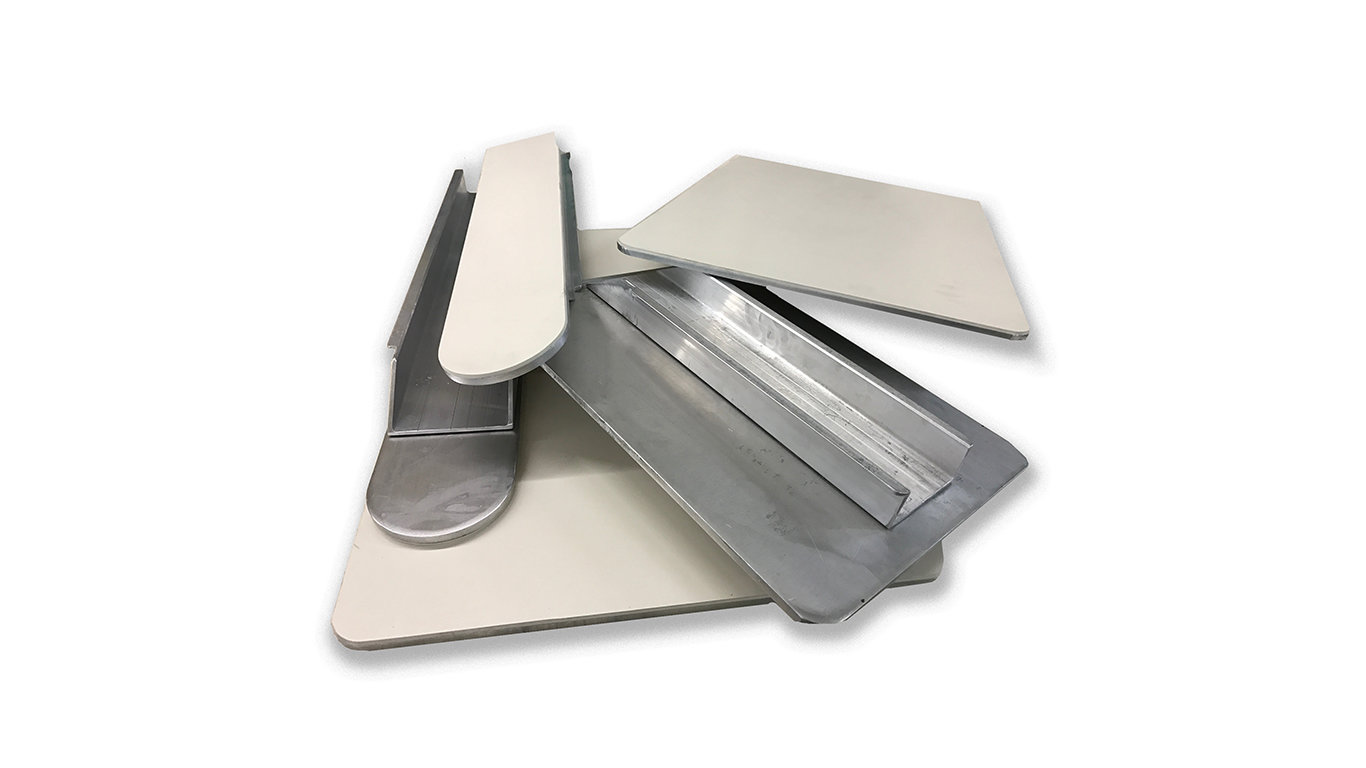 We offer the lowest prices on stock M&R style pallets in the industry. We have several sizes in stock for immediate shipment and if we do not have a size in stock – or if it is a custom size – we can typically ship these orders in 48 Hours.
Our pallets also typically work well on other manufacturers' presses including: Workhorse, Anatol, Vastex, Antex, Hix
Contact us for a free sample of our bracket to assure compatibility with your press.
Contact us for pricing on custom sizes.
"Contact us for pricing for pallet sizes not shown."
FREE SHIPPING ON ALL STOCK M&R STYLE PALLET ORDERS
Our m&r style screen printing pallets are of the highest quality in the screen printing industry; only the most premium raw materials are used in their construction; Our pallets are flat to .010" which is the flattest in the industry and assures the highest possible quality in screen printing results. Our pallets are precision cut to +/- .0625" from edge to edge. We use only premium 1/8" white vinyl-nitrile rubber adhered to .250" aluminum plate using an aggressive 3M contact adhesive and provide an M&R style bracket secured with Very High Bond 2-sided tape. Our m&r sleeve pallets have a lifetime warranty against defects. This excludes routine rubber shrinkage around edges due to heat exposure and other deformation due to abuse.
| | |
| --- | --- |
| Size: | Price: |
| 6"x16" (152x406mm) | $114.92 |
| 6"x22" (152x558mm) | $156.41 |
| 8"x16" (203x406mm) | $117.89 |
| 8"x22" (203x558mm) | $157.65 |
| 10"x16" (245x406mm) | $122.55 |
| 10"x22" (245x558mm) | $159.09 |
| 12"x16" (305x406mm) | $123.93 |
| 12"x22" (305x558mm) | $163.08 |
| 14"x22" (356x558mm) | $164.28 |
| 16"x22" (406x558mm) | $165.73 |
| 18"x22" (457x558mm) | $172.36 |
| 20"x30" (508x558mm) | $225.42 |
| 22"x30" (558x762mm) | $242.66 |
| 4"x23" Sleeve (102x584mm) | $135.69 |